Stable, safe, with style. In short – very popular right now among electric scooters is the Cherokee! The large 8.5-inch wheels make driving very comfortable, and the rear disc brakes safe. Technical specifications follow a good design solution, so with a single battery charge of 7.5 AH, 36V you can go up to 30 km. There are three levels of speed adjustment so that it is possible to adjust the maximum speed to the driving conditions.
In addition, like all e-scooters from the Xplorer range, the Cherokee is foldable, so you can easily take it with you to school, the office, for socializing or when you head home from the city. If you want to park it for a short time, you can do it with a side stand leg. It is important to note that the Xplorer Cherokee has honeycomb tires that have a long service life, working like a pneumatic tire, but without the risk of puncture and impact damage. In addition, the unique energy transfer provided by the honeycomb tire reduces bounce and promotes excellent stability.
Security measures
In the past 3 years, electric scooters have gained a significant place in the market and now can be found in over 100 major cities around the world. This is a major example of shifting the trend towards people who want convenient and sustainable vehicles. At the same time, there are questions about the safety of e-scooters. How can manufacturers ensure that the products they supply are safe?
The growing popularity of e-scooters has been accompanied by an increase in the number of newspaper headlines reporting accidents involving their use. Security measures have not always kept pace with demand and technological progress. To counter this, regulations and guidelines are being created to protect people. A key component of an e-scooter, and one that can often be a source of problems, is the battery. Concerns about the safety of lithium-ion batteries are well documented. However, the risks associated with their use can be reduced if the products are tested and certified in accordance with the correct standards.
Is the Cherokee e-scooter safe?
The answer is YES!
Xplorer Cherokee is UL 2272 certified - Standard for Electrical Systems for Personal E-Mobility Devices - written specifically for electrical systems in personal e-mobility devices, including electric scooters and hoverboards. It contains provisions that ensure that the battery can operate safely at different temperatures, as well as the possibility of charging. Using this test, in combination with the UN 38.3 lithium-ion transport test, creates a much safer product.
Simply put, the UL2272 is an American certification awarded to electric mobility devices that meet the standards of a comprehensive safety test system. The test parameters include both electrical and mechanical components, as well as environmental aspects for electrical safety assessment. To further explain, the assessment takes into account how shock-resistant the devices are, extreme temperatures, water exposure and other factors. Under these conditions, signs of short circuit and charging imbalance would indicate the possibility of fire and are therefore considered less ideal in the electrical safety level.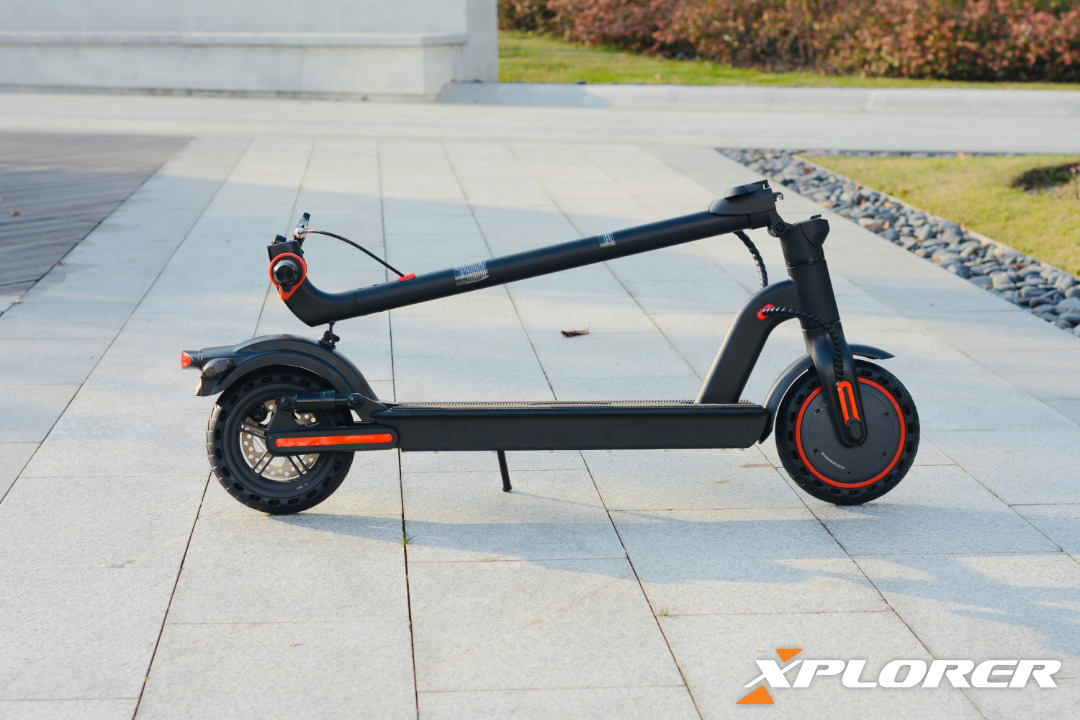 Should I buy an e-scooter?
Certainly yes. The e-scooter is one of the elements of micro-mobility. As cities face rapid population growth, large numbers of people own cars and rush to various destinations, traffic jams are inevitable. Many cities believe that micro-mobility can be the solution to their problem, as it is not possible to free up more land for roads and parking spaces.
Xplorer provides you with a guaranteed purchase to make sure that your e-scooter will be safe and long-lasting, given that the company operates throughout Europe, where certain certificates are required to guarantee this.