Winter is coming and the temperatures are dropping. The time has come to prepare your e-bike for the colder conditions and snow. Right now, as this blog is being written, the temperature outside is 5°C. Before we start with advice for e-bikes, let me first remind you to always wear warm clothing while riding your e-bike outside in the cold. With that in mind, let's start with the advice on how to use, store and clean your e-bike in cold conditions.
BATTERY
Do not leave your battery outside in the cold. Even more dangerous is to leave it in the rain or snow, because the moisture can do permanent or even terminal damage. While in use, the battery should work fine, but if left in the cold for a long time, it will have a decreased performance and less capacity. Most e-bike batteries are removable, and we advise you to take your battery indoors after use, to recharge if necessary and to keep it safe from the cold.
CLEANING AND MAINTENANCE
We recommend to clean your e-bike often, and after cleaning coat the frame with wax, to protect the paint and to make it easier to clean next time. To remove moisture from difficult to reach places (such as the sprocket, outer casing, inside the fork tubes, ...) you can use WD40 spray.
In normal conditions, the chain would be cleaned once a month, but during winter we recommend cleaning once a week. To do this, use a toothbrush, and just spin the chain a few times to remove all the salt and dirt from the chain.
For the brakes, just use a damp cloth to wipe the discs and the brakes after use, to prevent salt and dirt to freeze to the surface of the brakes and decrease their efficiency.
For everything else, like cables, wires, connectors and other parts, just wipe them with a dry cloth occasionally.
TIRES
If you have an e-bike with wide tires, you are good to go. Wide tires provide better grip and stability during cold weather, and there is no need to do anything else to them. However, most of you probably have normal bike tires, so here is a pro tip to make it easier to ride your e-bike on snow or ice. Buy a pack of zip-ties and evenly place them around your tires and wheel, like in the picture below. This method will give you a much better grip on slippery surfaces, and it lasts for several rides, after which you will need to replace the zip-ties.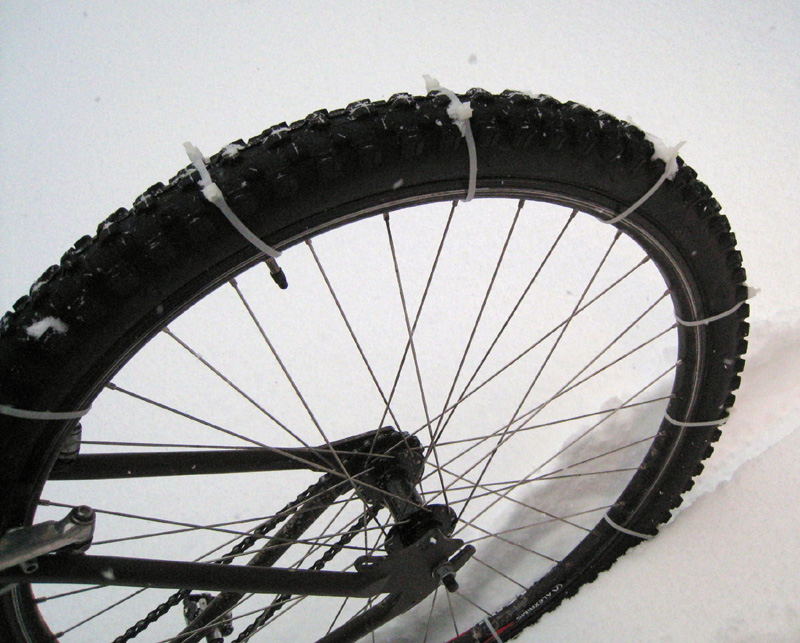 Author: Martin Matešić